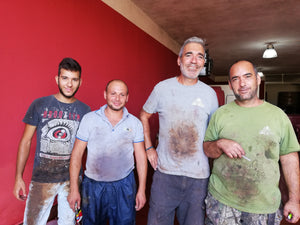 Lamoresca: With Love from Sicily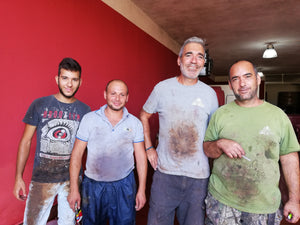 Always an exciting time here at Union when Filippo Rizzo's Lamoresca Wines are in store, but even more so when Filippo graces us with two new wines!!
For the first time, we see the new cuvees come in the form of a tiny batch 'Nero' Nero d'Avola and 'Elsa' Rosso, which is a blend of Nerello Mascalese 60%, Frappato 20% and Nero d'Avola 20%, made in somewhat of a Riserva style, being that the best grapes are selected from harvest.
We also have replenished stocks of the ever-delicious, savoury Rosato and the Summer friendly red in the straight Frappato.
Lamoresca is located in the southern most corner of the province of Catania, between Etna and Gela on the southern coast, at ~450 meters above sea level. The area has a combination of deeply compressed sandstone soils mixed with calcium and iron-rich clay. The old vines are a mixture of nero d'avola, grenache and nerocapitano (frappato) for the reds, and the extremely rare vermentino corso and some roussanne for the white; all of which are worked without the aid of any chemical or pesticide. The wines are naturally fermented without temperature control and no sulfur is used at all throughout the process. Courtesy of Selection Natural. 
Filippo Rizzo and his wife Nancy met over a decade ago while Filippo owned and operated a small restaurant in Belgium. At that time, Filippo was among the first to be talking about and serving natural wines anywhere outside of Paris. His family had ties to Sicily, and he was truly passionate about the preservation of the land and the importance of additive-free wine. After years in restaurants and retail, Filippo decided to get back to the land the best way he knew how; become a winemaker. Mondo Imports
This is a new wine from Lamoresca. 100% Nero d'Avola. 20-year-old vineyard, grown at 550m ASL, 2 months of maceration on the skins, aged in concrete tanks for a year. 1500 bottles produced.
It's Nero, but maybe not as you know it. Spicy, almost mustard green or watercress, but also liquorice/aniseed, violets, earth, cherry and amaro. It's fresh and sappy, with an earthy grip to tannin, orange peel and spiced strawberry, so much zest and tang, but has the bass to go with it, and almonds. Fresh raspberry, dry and silty finish. Quite a wine. Classic Lamoresca feel, but different too. It's a terrific wine. Fans of this producer should probably form an orderly queue. Drink: 2022 - 2026+  94 points Gary Walsh, The Wine Front
Elsa is Nerello Mascalese 60%, Frappato 20% and Nero d'Avola 20%. 3 weeks maceration. One year in concrete tanks. 2000 bottles produced.
Juicy liquorice, cherry and aromatic herbs, a subtle and spicy smokiness to it also. Lots of crunch, kind of fine sandstone tannin, again that liquorice and amaro thing, red fruits, fine and sappy acid profile, and all the crushed rock and perfume to close. Wonderful wine. So different, really vital, and so of a place/producer. Compelling.
Drink : 2022 - 2026+  
95 points Gary Walsh, The Wine Front
This riserva of sorts comes from a selection of the best grapes Filippo harvested and is mostly composed of Nerello Mascalese with a little Frappato and Nero d'Avola in the mix. The grapes spent two months on the skins, followed by a year in cement vats and a further two years in bottle before release. Time has rendered a deep, savoury and complex wine with mature fruit, herbs and brine combining to beautiful effect.
Importer note
Lamoresca Rosato 2021: $46 per bottle
A roughly 50:50 blend of Frappato and Nero d'Avola, with a touch of Moscato. This year the Frappato is sourced from his youngest vines at home and blended with a Nero d'Avola from Pachino. It's all given a direct press and aged in concrete for eight months.
A little reduced on opening, this has a gorgeous tone, citrus in spades and a pleasant bitterness to finish. Summer in a glass.
Lamoresca Nerocapitano 2021: $46 per bottle (limited)

Nerocapitano is what the locals in Filippo's village call Frappato. The fruit here comes from twenty-year-old vines planted over clay and limestone some 430 metres above sea level. The grapes were fermented on the skins for seven days before being pressed off into concrete vats for eight months of rest.
This is the lightest and brightest version of this wine we have tried, a gorgeous shade of cherry in the glass, and it impresses with gentle notes of wildflowers and bitter herbs.
Bio certified by Q certificazioni
A light, bright and nimble Mediterranean wine, which transports you straight to Sicily, with gorgeous, sun-kissed fruit and nose heady with wildflowers.