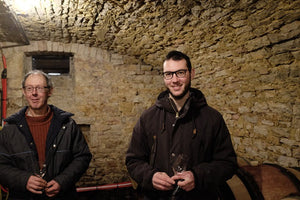 Domaine Overnoy | Star of the Jura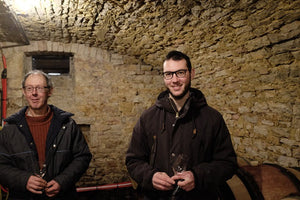 Domaine Overnoy (Jean-Louis & Guillaume)
The Jura is a small region in eastern France between Burgundy and the Swiss border. Known for its stunning natural beauty, rich history, and unique culinary traditions, the Jura is also gaining recognition for its outstanding wines, particularly its white wines. Let's explore the white wines of the Jura and highlight one of the region's most renowned producers, Domaine Overnoy.

A relatively small wine region, with only around 2,000 hectares of vineyards, however, the region's diverse terroir and microclimates allow for the production of a wide range of wines; from light, crisp whites to full-bodied reds and even sparkling wines. The Jura's signature grape varieties are Chardonnay and Savagnin, which are often used to produce dry, oxidative-influenced whites and sweet, fortified wines.

One of the most unique features of Jura's white wines is their production method. The wines are typically aged for extended periods in oak barrels, which allows them to develop complex, nutty flavours and aromas. This extended aging can be done without replacing the naturally evaporated wine, or topping up, this can result in the development of a layer of yeast called voile (veil) or flor, which adds to the wine's complexity and gives it a distinct, sherry-like character. The famed "Vin Jaune" translates to "Yellow Wine".

One producer that has gained international recognition for their exceptional Jura wines is Domaine Overnoy. This estate is located in Orbagna, in the south of the Jura in the region of Sud Revermont. They are not too far away from Rotalier, home to the famous estates of Labet and Ganevat, and are committed to producing wines that showcase the unique character of the Jura's terroir. In 2014 they began conversion of the estate of 5.5 hectares to organic cultivation.

Domaine Overnoy's wines are made using traditional, non-interventionist methods, with a focus on low yields and natural fermentation. The winery's Savagnin wines are particularly noteworthy, with their nutty, saline character and long aging potential. Domaine Overnoy's Chardonnay wines are also exceptional, with a complex bouquet of aromas ranging from citrus and stone fruit to toasted nuts and spice.

One of the most remarkable aspects of Domaine Overnoy's white wines is their ability to age and develop over time. The winery's Savagnin wines are known for their longevity, with some vintages aging for more than 20 years before reaching their peak. These wines are not for everyone, however, as their oxidative style can be an acquired taste. But for those who appreciate the complex, savoury character of these wines, they offer a unique and rewarding drinking experience.

The white wines of the Jura are a hidden gem in the world of wine, with their unique production methods, diverse terroir, and exceptional quality. Domaine Overnoy is a shining example of the region's winemaking excellence, producing some of the most distinctive and age-worthy Jura whites available today. Whether you're a wine enthusiast or just looking to explore something new, the white wines of the Jura, and Domaine Overnoy in particular, are well worth seeking out.