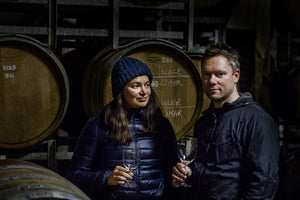 Beechworth Brilliance: 2021 Vignerons Schmölzer & Brown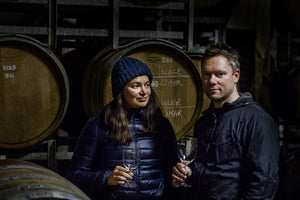 Some days are better than others. As a small independent wine store, we try hard to seek out wines that are authentic, genuine, honestly made, and represent value for money. Vignerons Schmölzer & Brown epitomise all the attributes we place high importance on. It is impossible to show restraint when Tessa Brown says that a Geelong visit is on the cards.

We were lucky to taste the soon-to-be-released lineup of 2021s from this boutique Beechworth producer, and the quality across the board is undeniable.

Tessa has a brilliant mind, matched with an impeccable resume listing experience at some of the top producers in the land. Together with partner Jeremy Schmölzer, they craft a range of pure and thoughtful wines from that blessed pocket of Northeast Victoria, but it is their work within the Stanley hamlet of the Beechworth GI that is the heart of their operations. 

Single vineyard releases from the 1994-planted Brunnen vineyard and 300m away at their own 2014-planted Thorley vineyard, are a chance for VS&B to showcase their viticultural talents in this sub-alpine setting.

Trust our judgement that these are wines we love to drink and think you will too. 

2021 Vignerons Schmölzer & Brown Thorley Riesling $58
Destemmed and crushed, several hours on skins before pressing. Light settle, wild ferment in stainless steel then transferred to old oak to complete ferments. Six further months on lees before bottling. Dry spätlese in style. - Tessa Brown
A touch of colour for a young wine, the nose shows honeyed notes, canuba wax and fresh clay, not overly aromatic or floral, perhaps due to the old oak shaping toward texture and complexity rather than preserving high tones. The palate has a wonderful pithy grip and texture, with incredible drive and power as it glides. Amazing persistence to the length and great harmony to the winemaking nous. - Tom Brushfield, Union Cellars
2021 Vignerons Schmölzer & Brown Thorley Chardonnay $58
Crushed whole bunches and basket pressed. Full solids ferment, then full MLF in a mix of puncheons and barrique. 20% new oak. Ten months in oak with monthly stirring, then five months in tank for fine lees tightening before bottling.
"Succulent, quietly powerful, green apple, just-ripe nectarine, a touch of ginger, some green almond, licks of nougat and a faint saline mineral edge in there too. Beautiful, gently floral perfume with the rest of those characters I wrote before. The palate a swish and swizzle of pretty fruit, savoury elements, cool, high toned acidity, a faint rose water character, which is interesting, and, like Brunnen, exceptional length and freshness. Phwoar, haven't VS&B nailed chardonnay in 2021." 95 points, Mike Bennie, The Wine Front


"White peach, cedar and cinnamon quills, a little mint, chamomile, ginger. It's light, cool feel to it, some green olive, gentle saline character, a light dusty texture studded with sweet spice and almond, with a fine powdery grip on a finish of excellent length. Calm, fine-boned, and beautifully turned out. It's some drink." 95 points, Gary Walsh, The Wine Front
2021 Vignerons Schmölzer & Brown Brunnen Chardonnay $58
Crushed whole bunches and basket pressed. Full solids ferment, then full MLF in barrique. 33% new oak. Ten months in oak with monthy stirring, then five months in tank for fine lees tightening before bottling. - Tessa Brown  
"Really great drinking. Complex, quite concentrated, very saline and briny with hazelnut and almond characters galore – things we like. The green apple tang is there, grapefruit zing as well, some rice cracker notes, a wild streak of faint aldehyde (let's say more salinity/minerally things) and all of that wrapped up in very high drinkability with great persistence and general sense of interest. Character-filled in the very best way. Nigh on sensational. 96 points, Mike Bennie, The Wine Front
"Such personality and strength of character, a little brittle salted toffee, praline, green apple and grapefruit, with a bright almost sherry-like tang to acidity, a light creaminess, fine chalky texture, bone dry, yet kind of succulent, with a long samphire and fennel laced finish. Lots of crunch and energy here. Super. 96 points, Gary Walsh, The Wine Front
2021 Vignerons Schmölzer & Brown Brunnen Pinot Noir $58
Mostly whole berry, all wild ferments with around 15-20 cuvasion. MLF and ageing in barrique, one in six being new. Then months in oak, then five months in tank for fine lees tightening before bottling. - Tessa Brown 
"Spicy, autumnal, beetroot and rhubarb, cherry and mint, light cedar oak. It's sappy and grainy in texture, emery board tannin, game meat and juniper berry, a blood orange tang too, with poached strawberry, nutmeg and cinnamon on a gently ferrous finish of fine length. Specific sort of character here, and there's interest in that way too. It develops more perfume and rosy things after being open for a day, and indeed, the wine has unfurled quite nicely over the duration." 94 Points, Gary Walsh, The Wine Front
2021 Vignerons Schmölzer & Brown Thorley Syrah $58
Mostly destemmed and crushed ferments. One small all whole bunch ferment, blended back to around 15% whole bunches. All wild ferments with around 15-20 days cuvasion. MLF and ageing in barrique, one in six being new. Ten months in oak, then five months in tank for fine lees tightening before bottling. - Tessa Brown
"Plum, toasted hazelnut and pecans, roast beef and rosemary, a grind of pepper and spice. It's medium-bodied, silky and nutty, walnut tannin, and a kind of honey and red fruit juiciness, though it's essence is more stony/mineral, and, of course, nutty, and the finish has some spice and burnt orange, which carries long in the aftertaste. Really like this. It's so distinctive and good to drink." 94 Points, Gary Walsh, The Wine Front
2021 Vignerons Schmölzer & Brown Thorley Nebbiolo $58
One destemmed and crushed wild ferment in an open pot. Around 28 days cuvasion. Underwent MLF in the following year's summer, so twelve months sans soufre in oak. Eighteen months total maturation in old puncheon and hogshead before bottling. - Tessa Brown
"Fine perfume here, and a certain cool alpine feel and clarity. Red cherry, new leather, mint and liquorice root, a little spice and orange peel. Medium-bodied, juicy cherry and ripe strawberry, some savoury tobacco flavours, bright acidity, fine brick dust tannin, and a long spicy/dusty finish. So nicely done. It's lucid and tight, and has the signature of Nebbiolo firmly etched. I'm impressed. Very." 94+ Points, Gary Walsh, The Wine Front