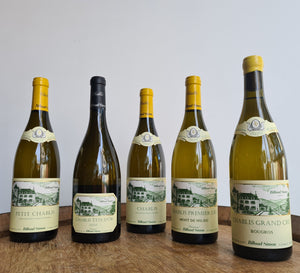 2020 Crystal Clear Chablis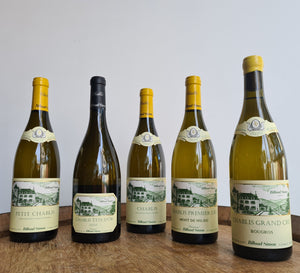 BILLAUD SIMON STRIKES GOLD WITH 2020!!
A family that has been connected to Chablis since 1815, Domaine Billaud-Simon was acquired by Francois Faiveley in 2014, with the change of ownership bringing subtle but effective improvements. Grapes are hand-harvested earlier, with more consistency in the winemaking and less new oak in the top wines. 
These are unmistakable in their origin, all the mineral nerve the region is famous for, but with texture and generosity of flavour. A tightrope act of extract balanced with purity.
We are incredibly lucky to have scored a parcel of the 2020 wines, ranging from the Petit Chablis to the Grand Cru Bougros. 
The Petit Chablis from Billaud-Simon comes from higher elevation vineyards and is by no means a "little wine". This is a shining example of the producer style of minerality, precision and purity. 
A slightly cooler and quite pretty nose speaks mostly of citrus and quinine along with whiffs of iodine. The delicious and more vibrant medium-weight flavours possess both good delineation and minerality while offering a more appealing texture on the bone-dry but not really austere finish. This is a very good villages and worth considering. Outstanding Top value. Drink 2024+ Allen Meadows, Burghound, 89-91 pts
Superbly delicious and inviting and ready to go, too. This is a lovely style and a wine that embraces the vintage's ripeness but manages to add a discreet degree of bite to the finish. A success. Matthew Jukes, Score: 17/20
A deft touch of wood sets off the ripe aromas of white orchard fruit, sea breeze and a hint of shellfish. The delicious and slightly richer flavors possess a touch more volume on the seductively textured, mouth coating and firmer finale. This is also lovely for its level and worth checking out. Drink 2025+ ❤️ Outstanding Top value Allen Meadows, Burghound 89-92 pts
2020 Mont de Milieu 1er Cru $144 (VERY LIMITED)
There is a suggestion of the exotic to the aromas of white peach, passion fruit, quinine and citrus confit scents. The super-sleek and gorgeously textured medium-bodied flavours brim with dry extract on the round, caressing but quite punchy, clean, refreshingly dry finale. This, too, is going to require at least some restraint. Drink 2028+ Allen Meadows, Burghound 91-93 pts
A little more subtle and closed than Les Vaillons, this is a quieter wine, but it makes up for this lack of action with a longer, more controlled finish. This is a style for those drinkers who still appreciate the beauty, the elegance of Chablis. Matthew Jukes, Score: 17.5/20
2020 Bougros Grand Cru $280 (VERY LIMITED)
Just 2% of the total vineyard area in Chablis is good enough for the Grand Cru classification. The 106 hectares of Grand Cru are spread over seven individual Crus, all of which are next to each other. The Bougros is considered the Grand Cru site with the softest and fruitiest top-class Chablis wines. Here you get a lot of fruit and charm with a relatively soft acid structure. That's why you can always drink Bougros wines relatively soon after bottling, although they can also mature well.
2020 is a great Chablis vintage, the wines have power, depth and a great balance at a very high level. The Bougros Grand Cru by Billaud-Simon has a lot of pressure on the palate but is already very accessible, the fruit is intense, and the finish is long and supple. Great! 91-94 Allen Meadows, Burghound